Searching for a marquee for long-term hire in the UK? Afraid of getting an unrealistically high quote? Well, you don't have to worry anymore because we offer long-term hire service at the most affordable rates.

When you are planning a long-term hire for a marquee, you must consider factors other than price. Long-term hire of marquee requires commitment from both sides. Otherwise, the whole event can turn into a terrible disaster.

That is why the best recommendation is to hire only those experts in this field like us. This will provide you to focus on more important things about the event.

Here are some prominent reasons why you should choose us for a long-term hire of marquees:
Probably the biggest perk of long-term hire of our marquees is our exclusive rates. If you want it for a carnival or a music festival, we will offer you the best rates. In addition, those who come to us for a long-term hire of marquees get huge discounts as well.

As an organizer, you need to be wise at the first step. In other cases, your budget will be highly disturbed.
Imagine getting marquees from one supplier and furniture from another and hiring a different supplier for decoration. It could work for a one-day event, but this option isn't viable for a two weeks long festival.

To save our customers from this inconvenience, we offer everything from marquees to furniture and decor. That will help you in dealing with your guests adequately instead of worrying about management.
The moment you come to us till we disassemble the marquee, our dedicated staff passionately serves you. If you choose long-term hire of marquees, we will make sure that everything is up-to-the-mark.

Our professional maintenance team is one call away from you if anything goes wrong. Moreover, our team will visit the site regularly for inspections to ensure maximum satisfaction.
Diverse Variety of Coverings
You can't use the same marquee for a science exhibition that you use for a wedding. On that account, we offer a diverse variety of marquees to choose from. No matter what kind of event you plan to organize, we will have a covering for it.
For carnivals and seasonal festivals, our trendy and custom-made tents are quite popular. For corporate events and school gatherings, we have specially designed modern stretching to go with the theme.
You won't find such a variety of coverings anywhere else if your plan is long term hire of marquees.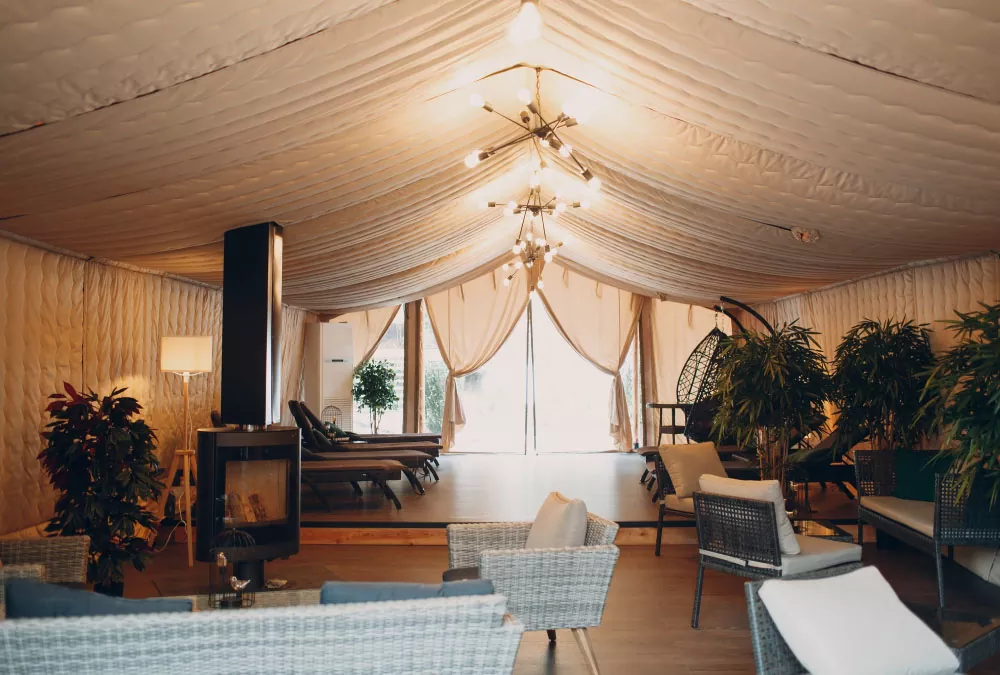 When you decide on a long-term hire of marquees or tents, you should consider the unpredictable weather of the UK as well. Even if the weather forecast for your event is clear, you should still be prepared for rain.
If you choose our marquees for long-term hire, you won't have to worry about any external elements. So, you can experience your event to its fullest inside our marquees even there's a thunderstorm outside.
It is because we use weatherproof technology in the manufacturing of our coverings.